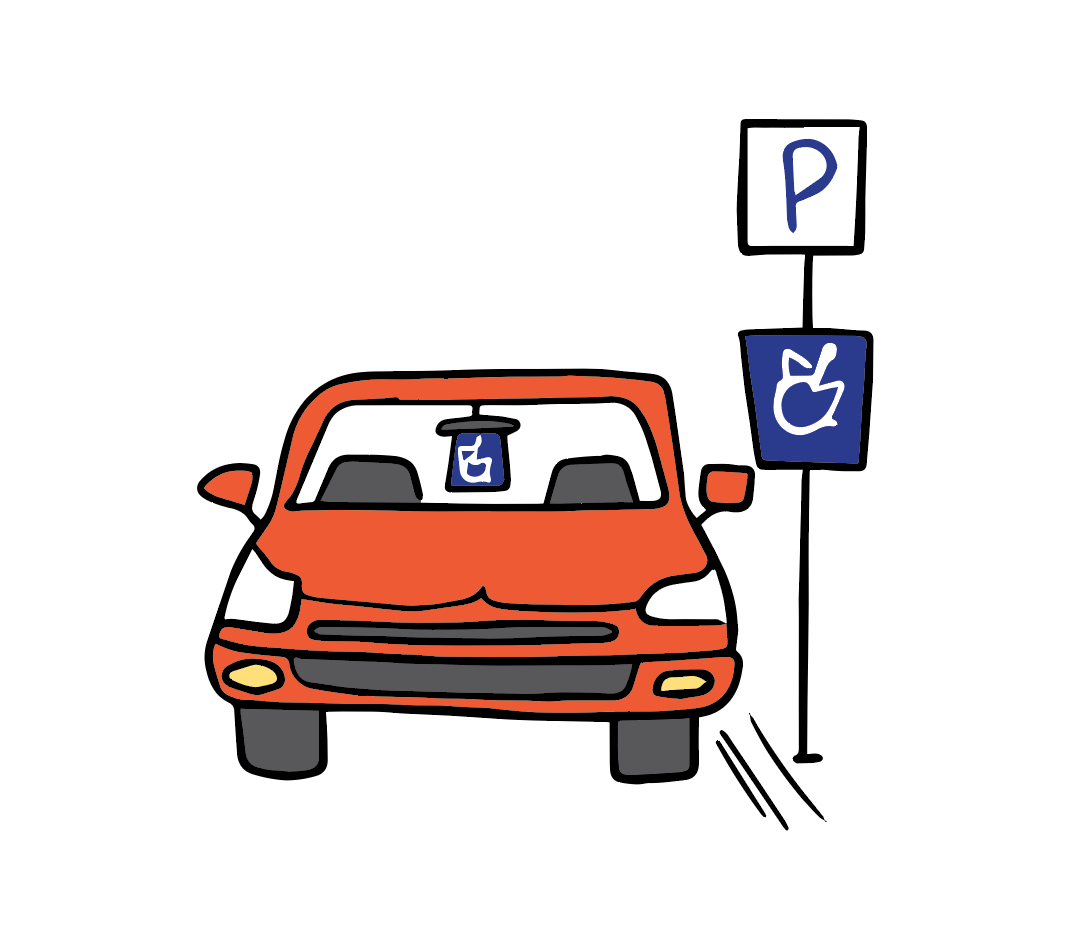 SPARC BC has been advocating for the rights of people with mobility limitations since 1969, and managing the Parking Permit Program for People with Disabilities since 1984. Over 100,000 people rely on us.
Designated parking allows people with disabilities to have access to buildings and services in the community.  People who qualify for parking permits may:
need the extra width of the designated spaces to get in and out of their vehicles in a wheelchair.
use crutches, a cane or other mobility aid, or
need to park close to a building entrance because their health prevents them from walking very far.
APPLY FOR A PARKING PERMIT FOR INDIVIDUALS
A parking permit for people with disabilities ensures that, when a person has mobility limitations, they can park in one of the designated parking spots throughout British Columbia.
People with mobility limitations are entitled to a permit even if they do not own a vehicle, as long as the parking permit holder is either driving or being transported in the vehicle. A valid parking permit must be displayed on the rear view mirror when the vehicle is parked in a designated spot.
There are two (2) types of parking permits for people with disabilities:
Permanent Parking Permit: Valid for a period of three (3) years, and renewable.
Temporary Parking Permit: Valid for a period of one (1) month to twelve (12) months, and not renewable. Clients requiring an extension of their temporary parking permit must reapply.
Special Permits for Organizations or People Who Use Motorcycles
Some organizations that regularly transport people with mobility impairments qualify for a parking permit for people with disabilities. People who use motorcycles use the same application process as other drivers, but they need a decal in place of the traditional permit. Please call us at 604-718-7744 to apply for either of these special permits.
YOUR IDEAS. HOW ACCESSIBLE IS YOUR COMMUNITY?
SPARC BC wants to know.
Please take a minute to tell us about your experience—things your community is doing well to be accessible and inclusive, or things where more work is needed.
We will keep your ideas and comments in our database, along with ideas from other Parking Permit holders. We use this information to plan future campaigns or programs to improve accessibility for everyone.
Your ideas are very important to us! However, please be aware we will not reply to messages submitted through this page.
Please use the form below to send us Your Idea! Thank you for sharing your experience with us.