SPARC BC brings a strong background in working with communities on a diverse range of accessibility-related initiatives. We have conducted Accessibility Audits for a range of partners and facilities, including:
local, regional and provincial partners
private businesses
non-profit organizations
institutional partners, and
various types of social, cultural and recreational facilities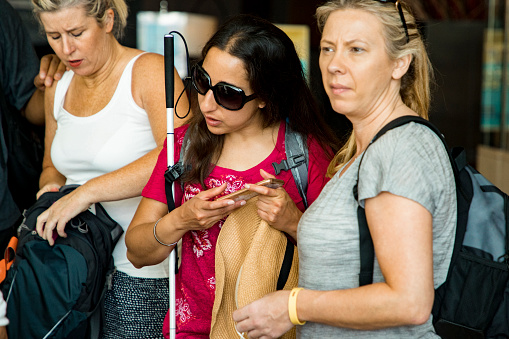 We have also conducted audits of a number of municipal offices and as well as local parks and public spaces. The different types of sites that we have audited include:
public facilities
recreation centres
parks and trails
tourist attractions
restaurants
retail businesses
Council chambers
streets and sidewalks
theatres, and
other types of public spaces and gathering places
Accessibility is about inclusion
Inclusive communities recognize the unique talents, contributions and abilities of everyone and strive to be the kind of community where everyone is included and where everyone has the opportunity to participate in the social, recreational, cultural and economic activities they chose. 
We have come so far, but we still have a way to go
Research completed by the Rick Hansen Foundation (December 2015) found that Canadians see massive gaps in accessibility in their communities and believe that Canada should be a leader in removing these types of barriers.
Based on a recent survey completed by the Angus Reid Institute for the Rick Hansen Foundation, nearly 1 in 4 Canadians (23%) say that they either have a physical disability or mobility challenge. As well, more than half of the population (55%) knew someone who had a physical disability either personally or through their family, social or work networks.
Accessibility is achievable
Accessibility can be improved through both short and long term measures. Engaging in the development of a longer term planning framework and by making incremental investments in improving the accessibility of the built environment help to create a community that is inclusive of everyone. 
Accessibility is achieved when we make intentional choices about our communities
The way we plan and design our communities can shape the overall level of accessibility. Often it is only small design changes that are needed. Adding a portable ramp or leveling a curb can send an important signal. By choosing to make our communities more accessible we show that we care and that everyone is welcome. 
Accessibility benefits everyone
At one time or another we will all know someone who has a health and activity limitation whether it is a family member, a friend, a colleague at work or someone that we know through our social networks. Inclusion initiatives can work to challenge stereotypes and build increased awareness and understanding about the different ways that individuals and communities can come together to promote greater accessibility and inclusion for everyone.
For more information about SPARC BC's Accessibility Audits, please contact us at: